Assistant professor at the CSE Department at Ohio State University.
Office: Dreese Lab 489
E-mail: pooyahat at gmail dot com
---
---
I co-organize the CSE theory seminar of our theory group. 
---
Research Interests: Pseudorandomness, Complexity Theory, Combinatorics, Analysis of Boolean Functions
---
I spent two years as a postdoc at UT Austin hosted by David Zuckerman. I also spent two years as a postdoc at DIMACS and at the Institute for Advanced Study. I received my PhD from the Computer Science Department of University of Chicago, where I was lucky to be supervised by Alexander Razborov and Madhur Tulsiani.
---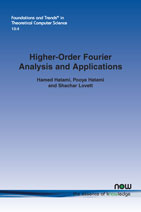 Higher Order Fourier Analysis and Applications,
(with H. Hatami and S. Lovett)
Foundations and Trends in Theoretical Computer Science,
Vol. 13: No. 4, pp 247-448
Buy here: https://nowpublishers.com/article/Details/TCS-064
[ Free Plain Version ]
---
Selected Papers (full list here): 
Tight Bound on the Number of Relevant Variables in a Bounded degree Boolean function
(with John Chiarelli and Michael Saks)
To appear in

Combinatorica

[ arXiv ]
Pseudorandom Generators from Polarizing Random Walks
(

with

 Eshan Chattopadhyay, Kaave Hosseini, Shachar Lovett)
– CCC 2018 [ ECCC ]
– To appear in Theory of Computing's Special Issue for CCC 2018
Improved Pseudorandomness for Unordered Branching Programs through Local Monotonicity,
(

with

 Eshan Chattopadhyay, Omer Reingold, Avishay Tal)


STOC 2018

 [ ECCC ]
General systems of linear forms: equidistribution and true complexity,
(

with

 Hamed Hatami and Shachar Lovett)
[ Journal ] [ ECCC ] [ Talk Video ]


Advances in Mathematics

, 292:446-477, 2016
A characterization of functions with vanishing averages over products of disjoint sets,
(

with

 Hamed Hatami 

and

 Yaqiao Li)
[ arXiv ] [ Talk Video ]


European Journal of Combinatorics

, 56 (2016) 81-93
Every locally characterized affine-invariant property is testable,
(

with

 A. Bhattacharyya, E. Fischer, H. Hatami, S. Lovett)
[ ECCC ]


STOC 2013

A lower Bound for the length of a Partial Transversal in a Latin Square,
(

with

 Peter W. Shor)
[ pdf ]


J. Comb. Theory Ser. A

, 115, 7 (2008) 1103-1113.